So, what is a super heinz bet?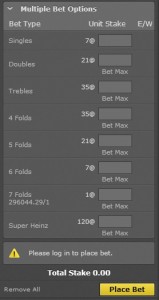 A Super Heinz Bet is a bet that consists of seven selections that are rolled up into 120 bets, twenty-one doubles, thirty-five trebles, thirty-five 4-folds, twenty-one 5-folds, seven 6-folds and a 7-fold.
A Super Heinz bet is a good way to reduce your risk when betting on seven selections but the number of bets that make up this bet mean that it is best used when backing many selections that have a strong chance of winning at long odds, or as a fun bet when backing longer odds selections.
A super heinz bet is considered a full cover bet as each of your selections is covered by doubles, trebles, 4-folds, 5-folds, 6-folds and a 7-fold.
Super Heinz Bet Composition
You have seven selections in a super heinz (1,2,3,4,5,6,7), below you can find a breakdown of how the bets are covered:
Doubles: x 21
Trebles: x 35
4-Folds: x 35
5-Folds: x 21
6-Folds: x 7
7-Folds: x 1
As a super heinz consists of 120 separate bets, if you were to put £1 on, your total stake would be £120 (£1 x 120).
What Is A Super Heinz Bet Good For?
In all honesty there is not a lot that this bet is great for!
I would suggest using this type of bet when placing fun accumulators or when you want to reduce your risk on a 7-fold accumulator.
You will not find any professional gamblers using a super heinz to secure long term profits.
Hopefully this article has helped you with your understanding of what is a super heinz bet.