So, what is a goliath bet?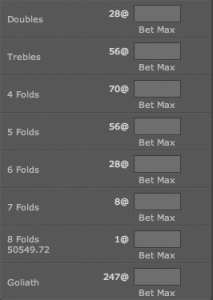 A Goliath Bet is a bet that consists of eight selections that are rolled up into 247 bets, 28 doubles, 56 trebles, 70 4-folds, 56 5-folds, 28 6-folds, 8 7-folds and an 8-fold. It is named a goliath bet due to the sheer size of the bet and number of bets it creates for you, imagine placing 247 individual bets.
A Goliath bet is a huge bet and there is not an easy way to explain why you would even want to use it other than for a bit of fun.
A goliath bet is considered a full cover bet as each of your selections is covered by doubles, trebles, 4-folds, 5-folds, 6-fold, 7-folds and an 8-fold.
Goliath Bet Composition
You have eight selections in a goliath (1,2,3,4,5,6,7,8), below you can find a breakdown of how the bets are covered:
Doubles: x 28
Trebles: x 56
4-Folds: x 70
5-Folds: x 56
6-Folds: x 28
7-Folds: x 8
8-Folds: x 1
As a goliath consists of 247 separate bets, if you were to put £1 on, your total stake would be £247 (£1 x 247).
What Is A Goliath Bet Good For?
As a goliath bet has so many variations it is difficult to suggest what you would ever use it for…
If you are going to do it I would suggest sticking to bets at Evens (2.00) or below.
You could pick out 8 Both Teams To Score Bets and combine them as a goliath bet on a Saturday, if they all come in then you are going to be left with a decent profit.
Hopefully this article has helped you with your understanding of what is a goliath bet.