A Trixie Bet is a bet that consists of three selections that are rolled up into four bets, three doubles and a treble. A trixie bet is a great way to cover a treble by backing all the selections as doubles as, so you still get a return from your bet if only 2 of your three selections win.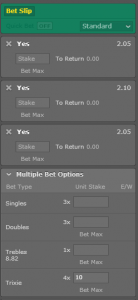 Many punters like to place trixie bets as they are a great way to hedge your bet and reduce your risk by earning a return if one of your three selections lets you down.
A trixie bet is considered a full cover bet as each of your selections is covered by three doubles and the treble.
Trixie Bet Composition
You have three selections in a trixie (1,2,3), below you can find a breakdown of how the bets are covered:
Doubles: 1+2, 1+3, 2+3
Treble: 1+2+3
As a trixie consists of four separate bets, if you were to put £10 on, your total stake would be £40 (£10 x 4).
What Is A Trixie Bet Good For?
Due to the way the trixie bet is structured it is often good for backing three selections where the odds of each selection are greater than Evens (2.00) as you can get your full stake back if two of your three selections win.
In football betting a trixie bet is good for Both Teams To Score bets, Over 2.5 Goals bets and Asian Handicap bets as the odds for these markets can be around or over the Evens (2.00) mark to make them good to back in a full cover bet like the trixie.
Trixie Bet Example
As an example of a trixie bet, lets imagine that you have backed Barcelona, Arsenal and Liverpool all to win with a -1.0 Asian Handicap and each selection has odds of Evens (2.00).
In this example you have placed £10 on the trixie so your total stake is £40.
If only one of your selections wins, your bet returns £0 as you need at least a double to land a return, this means you make a £40 loss.
If two of your three selections win then you win one of your doubles. If you multiple the odds of those two selections, in this case 2.00 x 2.00, you get odds of 4.00 for the double X your £10 on that bet means you get £40 back and break even on the bet.
If all three of your selections win then you win all three of your doubles (£40 x 3 = £120) and you win the treble which in this case is at odds of 8.00 (2.00 x 2.00 x 2.00), so your £10 on the treble returns £80. Add this to the return you got on your doubles and you have £120 + £80 = £200 return from your £40 bet…. Which is £160 profit.
Summary
What is a trixie bet
A bet that consists of three selections
Has a total of four bets
Includes three doubles
Includes one treble
You get a return if at least two of your selections win
Hopefully this article has helped you with your understanding of what is a trixie bet.