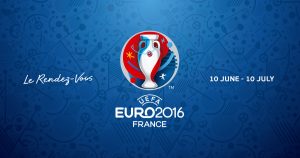 Euro 2016 gets underway tonight when France (the hosts) take on Romania at 8pm GMT.
As I did for the World Cup 2 years ago I have put together a guide/bet for each one of the group games as well as a 10 pre-tournament bets that I fancy for this summers event.
I have looked over the stats and the head to head records of all the teams taking place and picked out my hottest bet for each of the games, as well as my final score prediction for each..
You can find all the bets here:
https://docs.google.com/spreadsheets/d/1tIpYDZ_VSbnxTMaKDsdAQlCJIZIyQzHNt6AalN3-JCk/edit?usp=sharing
I will be updating the results of each game in the document every day so that we can all track the progress of these bets.
Want to put on something big for the tournament? Why not have a look at our 50,000,000/1 bet for the group stages!
Finally, please share your best bets for Euro 2016 in the comments section below.
Leave a comment