The Betalyst algorithm has evolved a lot over the past two years in an effort to increase the accuracy of the selections it provides and to help football punters make a consistent profit from their betting.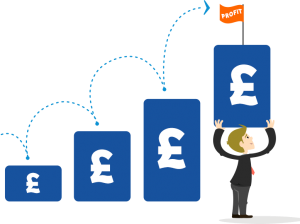 Over the past couple of months I have put special attention into the Both Teams To Score games algorithm as I noticed  that these bets tend to have fairly reasonable odds and if you could get an algorithm that could deliver winning tips with an accuracy in the high 80% mark you could make some serious money.
THIS MONTH I CRACKED THE CODE! The algorithm is projected to turn £100 into £35,000+ in just 60 days…
The Betalyst algorithm is now delivering an 88%+ accuracy for its top two both teams to score predictions every day. It does not take a genius to work out that accuracy like that can lead to some very strong profit, in fact based on the data taken since 12/03/2016 when the most recent version of the algorithm went live the projections show it could earn £1,700+ profit in month 1 from a £100 starting balance using a progressive staking system.
Lets dig a little deeper
Here is the data that shows the games that the algorithm has highlighted as it's top two Both Teams To Score bets for each day since 12/03/2016 – On some days there was only 1 pick or no picks depending on how many games met the criteria to be selected as a tip: (There is a link to this data file at the bottom of this post)
As you can see it has correctly predicted 15 of the 17 games correctly, an accuracy percentage of 88.24%, with average odds of 1.68. Not bad at all…
Lets assign some £££ to this:
Lets say you are a punter that likes to put a level £10 bet on every selection, if you had done that for these games you would have made £81.90 profit in 10 days: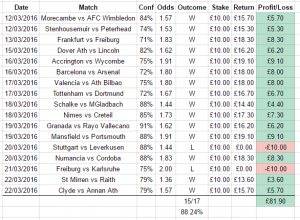 That is a fairly strong return after just 10 days and would work out close to £240 a month profit if the average odds and accuracy remained the same over a 30 period. You could put that to good use I am sure. If you are a slightly higher stakes roller and you were doing a level £50 bet on every selection your profit after 10 days would be £409, as you can see in the data below: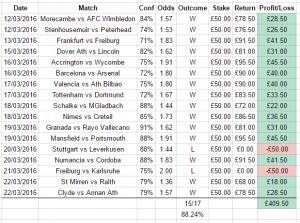 If the accuracy and odds stayed consistent, you would be looking at around £1,600+ profit a month from level £50 stakes.
Progressive Staking Example
I am a big fan of and use a progressive staking system for my betting, this means that my stakes for my days betting are based on a percentage of my total betting balance, for this algorithm I use 25%, as I know there are only a maximum of two selections that I would back every day so the most I can lose in a day is 50% of my betting balance. If you started with a betting balance of £100 at day 1, you would have made £448 profit after 10 days, as you can see below: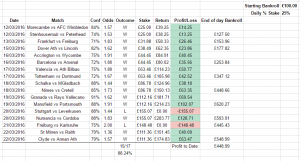 The difference with progressive staking is that over time your stakes increase as you win more bets, so your profit increases as well. Using the data from this algorithm, the accuracy to date and the average odds, I modelled the potential profit that could be achieved in a 60 day period. With a starting bank of £100, you could turn that into £35,000+ in just 60 days using the tips from this algorithm and a 25% of balance staking strategy.
You can find all the data that I have shared above in this post in the following Google Sheet, note the tabs at the bottom for each of the staking methods I have explained here and the 60 day projection numbers:
Betalyst BTTS Accuracy Tracker Sheet
You can find the Both Teams To Score Tips that the algorithm produces free on our site here:
What are peoples thoughts on the accuracy of this algorithm? Is there a better staking strategy that can be used?Have you been using the tips for your betting? Share your comments below.
Leave a comment